Here is good news for all those preparing for AP DSC English School Assistant and SGT posts, English Coaching classes by Eminent Faculty will start from 16th August.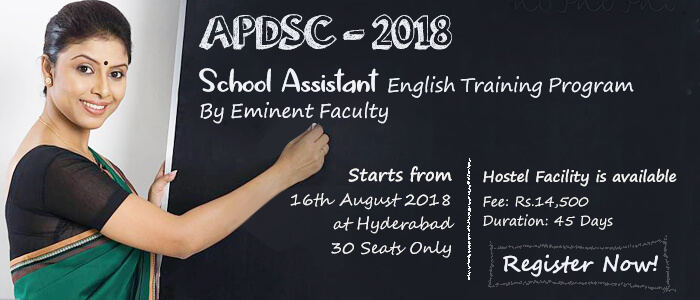 There is a huge demand for Teacher Jobs. Subsequent revision of salaries on the recommendations of pay commissions made Teacher Jobs very attractive than ever.  The advantages like posting in the same district and job security make the teaching jobs most sought after Government jobs.
As is well known the competition is high for these jobs. DSC attracts huge number of applications. Every year thousands of fresh B. Ed and D. Ed passing out are joining the competition, but the jobs are not increasing as required.
There are many English School Assistant and SGT posts. Every year, usually most number of vacancies are announced in the English subject only. Hence all those eligible for School Assistant and SGT English posts stand a great chance to make their dream job.
One needs to prepare dedicatedly for the DSC exam in order to crack it. At least few months of rigorous preparation prior to the exam is a compulsory.  Provided the right guidance in the form of good coaching one can stand a chance to clear the exams.
Coaching plays an important role in the preparation for DSC English Jobs.  In a short span of time, the coaching would help to cover the basics. Subsequent  class works and tests make you battle ready to take up the exam and put your best foot forward.
Vocabulary.
Fill in the blanks.
Grammar.
Spot the error.
Antonyms.
Synonyms/ Homonyms also.
Sentence structure.
Detecting Mis-spelt words also.
One word substitutions.
Idioms and phrases.
Improvement.
Passage.
Verbal Comprehension passage also.
Verbs.
Adjectives.
Clauses also.