APDSC New Pattern
The Government of Andhra Pradesh finally released the New Pattern for APDSC 2015 Recruitment Examination with old syllabus only.  The DSC exam and the TET exam will be combined and conducted in the name of AP TET cum TRT (DSC + TET) 2015 Recruitment Examination. The Examination is held as paper-1 and paper-2 and in two sessions as morning session and afternoon session. The examinations consist of 200 and 180 questions with 3hours of time duration as per the appeared post. In the earlier system of examination the TET qualified candidates could apply for APDSC test in which each paper's  weightage was for 80 marks and  the remaining 20% marks were taken from their TET exam.But in the new system of examination,it is same for all candidates.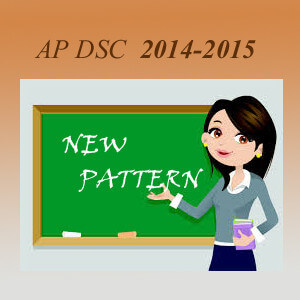 The AP DSC Recruitment Examination Test for the recruitment of teachers is conducted in 7 subjects.
1. CHILD DEVELOPMENT AND PEDAGOGICAL CONCERNS
2.GENERAL ENGLISH
3.GENERAL TELUGU
4.SUBJECT CONTENT
5.METHODOLOGY
6.PERSPECTIVES IN EDUCATION
7.COMPUTERS AND GK & CURRENT AFFAIRS.
(Special Grade) SGT and PET applicants will have to answer 180 one mark questions.
(Language Pundit) LP applicants will have to answer 200 one mark questions
(School Assistants) SA candidates will have to answer 200 one mark questions.
All examinations will be for 3 hours including 15 minutes for reading the question paper.
For the Post of S.G.T
The candidates who applied for the SGT post in the (TET cum TRT) examination will come across most of the changes in the examination. According to the previous pattern the candidates faced General Knowledge and Current Affairs and perfection in Education subjects for 10 marks and other subjects like telugu, English, maths, science and social for 12 marks each. But in the new DSC 2015 TET cum TRT recruitment Test all the SGT candidates will have to be ready to face 180 questions for 180 marks in the following pattern:
Duration of examination: Three hours (Including 15 minutes for Reading of Q.P.)
Structure and Content (All compulsory)
| | | | |
| --- | --- | --- | --- |
| i. | General Knowledge and Current Affairs | 10 MCQs | 10 Marks |
| ii. | Child Development and Pedagogy | 30 MCQs | 30 Marks |
| iii. | Language I (Opted by the candidate) | 35 MCQs | 35 Marks |
| iv. | Language II (English) (Content & Methodology) | 35 MCQs | 35 Marks |
| v. | Mathematics (Content & Methodology) | 30 MCQs | 30 Marks |
| vi. | Environmental Studies (Content & Methodology) | 40 MCQs | 40 Marks |
| | TOTAL | 180 MCQs | 180 Marks |
For the Post of Language Pandits (Telugu/Urdu/Hindi/Tamil/Oriya/Kannada)
| | | | |
| --- | --- | --- | --- |
| i. | General Knowledge and Current Affairs | 10 MCQs | 10 Marks |
| ii. | Child Development and Pedagogy | 30 MCQs | 30 Marks |
| iii. | Language I (Opted by the candidate) | 70 MCQs | 70 Marks |
| iv. | Language II (English) | 30 MCQs | 30 Marks |
| v. | Mathematics & Science OR Social Studies | 60 MCQs | 60 Marks |
| | TOTAL | 200 MCQs | 200 Marks |
For the Post of PET
| | | | |
| --- | --- | --- | --- |
| i. | General Knowledge and Current Affairs | 30 MCQs | 30 Marks |
| ii. | Language  (English) | 30 MCQs | 30 Marks |
| iii. | Physical Education | 120 MCQs | 120 Marks |
| | TOTAL | 180 MCQs | 180 Marks |
School Assistants: Duration of examination: Three hours and 15 minutes for Reading of Q.P.)
For the Post of School Assistants – Mathematics 
| | | | |
| --- | --- | --- | --- |
| i. | General Knowledge and Current Affairs | 10 MCQs | 10 Marks |
| ii. | Child Development and Pedagogy | 30 MCQs | 30 Marks |
| iii. | Language I(Opted by the candidate) | 30 MCQs | 30 Marks |
| iv. | Language II (English) | 30 MCQs | 30 Marks |
| v. | Mathematics & Science (Mathematics- 70, Bio. Science- 15 & Phy. Science- 15) | 100 MCQs | 100 Marks |
| | TOTAL | 200 MCQs | 200 Marks |
For the Post of School Assistants – Physical Science
| | | | |
| --- | --- | --- | --- |
| i. | General Knowledge and Current Affairs | 10 MCQs | 10 Marks |
| ii. | Child Development and Pedagogy | 30 MCQs | 30 Marks |
| iii. | Language I(Opted by the candidate) | 30 MCQs | 30 Marks |
| iv. | Language II (English) | 30 MCQs | 30 Marks |
| vi. | Mathematics & Science (Phy. Science -70, Maths – 15 &    Biology -15) | 100 MCQs | 100 Marks |
| | TOTAL | 200 MCQs | 200 Marks |
For the Post of School Assistants – Biological Science 
| | | | |
| --- | --- | --- | --- |
| i. | General Knowledge and Current Affairs | 10 MCQs | 10 Marks |
| ii. | Child Development and Pedagogy | 30 MCQs | 30 Marks |
| iii. | Language I (Opted by the candidate) | 30 MCQs | 30 Marks |
| iv. | Language II (English) | 30 MCQs | 30 Marks |
| v. | Mathematics & Science (Bio. Science- 70, Mathematics- 15 & Phy. Science- 15) | 100 MCQs | 100 Marks |
| | TOTAL | 200 MCQs | 200 Marks |
For the Post of School Assistants – Social Studies
| | | | |
| --- | --- | --- | --- |
| i. | General Knowledge and Current Affairs | 10 MCQs | 10 Marks |
| ii. | Child Development and Pedagogy | 30 MCQs | 30 Marks |
| iii. | Language I(Opted by the candidate) | 30 MCQs | 30 Marks |
| iv. | Language II (English) | 30 MCQs | 30 Marks |
| v. | Social Studies | 100 MCQs | 100 Marks |
| | TOTAL | 200 MCQs | 200 Marks |
For the Post of School Assistants (Languages)
| | | | |
| --- | --- | --- | --- |
| i. | General Knowledge and Current Affairs | 10 MCQs | 10 Marks |
| ii. | Child Development and Pedagogy | 30 MCQs | 30 Marks |
| iii. | Language I (Opted by the candidate) | 70 MCQs | 70 Marks |
| iv. | Language II (English) | 30 MCQs | 30 Marks |
| v. | Mathematics & Science OR Social Studies | 60 MCQs | 60 Marks |
| | TOTAL | 200 MCQs | 200 Marks |
For the Post of School Assistants (English)
| | | | |
| --- | --- | --- | --- |
| i. | General Knowledge and Current Affairs | 10 MCQs | 10 Marks |
| ii. | Child Development and Pedagogy | 30 MCQs | 30 Marks |
| iii. | Language I (English) | 70 MCQs | 70 Marks |
| iv. | Language II (Opted by the candidate) | 30 MCQs | 30 Marks |
| v. | Mathematics & Science OR Social Studies | 60 MCQs | 60 Marks |
| | TOTAL | 200 MCQs | 200 Marks |
For the Post of School Assistants (Physical Education)
| | | | |
| --- | --- | --- | --- |
| i. | General Knowledge and Current Affairs | 30 MCQs | 30 Marks |
| ii. | Language I (English) | 30 MCQs | 30 Marks |
| iii. | Physical Education | 140 MCQs | 140 Marks |
| | TOTAL | 200 MCQs | 200 Marks |