(Andhra Pradesh District Selection Committee) AP DSC 2014–15 notification
DSC(District Selection Committee) main objective is the recruitment of eagerly waiting aspirants as Language Pandits(LP), Secondary Grade Teachers(SGT), School Assistant(SA) – languages and non-languages, Physical Education Teacher(PET) in  Zilla Parishad, Government, Mandal Parishad Schools and Schools controlled by Tribal Welfare Department and Municipalities in the State.
In earlier years TET (TRT) and DSC were conducted separately. Henceforth, these exams will be combined and conducted in the name of AP TET cum TRT (DSC + TET). Candidates need to apply only for one post in which he seeks recruitment.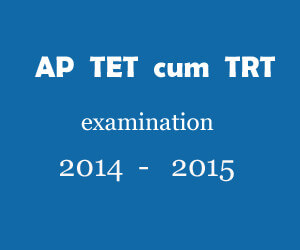 AP DSC 2014-15 notification was issued on 21st November 2014 which was officially announced by Andhra Pradesh Education Minister, Mr. Ganta SrinivasaRao. It was released to fill up the 9061 teacher posts in various categories. School Assistants-1848 posts, Language pandits-812 posts, PET-156 POSTS, SGT-6244 Posts. B.Ed and D.Ed candidates are eligible to apply for these posts. The dates for the exams are also announced.
AP DSC 2014 -2015 Examination dates are:
For SGT: 9th May 2015
For PET: 10th May 2015
For School Assistants: 11th May 2015.
Online application will be accepted from 02-12-2014 to 16-01-2015.
Online payment of application fee can be done.
From 25-04-2015 hall-tickets will be issued.
On 18-05-2015 primary key will be declared.
On 27-05-2015 Final key will be issued.
On 28-05-2015 results will be declared.
Candidates who are going to apply online for AP DSC 2014 has to follow the following step by step online apply procedure. Online Application Form is available in the official website.
Go to the website  //http://apdsc.cgg.gov.in
Click on the link Application Submission.
Click on the dialogue box (i.e., WELCOME TO ONLINE APPLICATION)
Confirm the next dialogue box also (i.e., Fields marked with '*'are compulsory)
Enter your details like your Journal Number, Date of fee Payment, Date of birth, Details of Post/s applying for, Community, PH Status and TET Hall Ticket Number/s.
In the field 'Attach your latest photograph', click on Browse button and attach your photograph and your signature stored on the local machine.
Click in the checkbox for declaration and enter the verification code.
Click Upload.
The application will be opened.
In the opened application form submit the particulars of your studies for organizing the local / non-local status.
Submit the details of your Academic and Professional Qualifications.
Check on the application, if the photo is of required size, clear and is of the same candidate of whom the details are to be filled in the application. If the photo is smaller in size, not clear or does not belong to the candidate press 'BACK' button below the photograph on the application form and restart with scanning of the photograph.
Now fill in the application form as per the instructions given in the User Guide and Information Bulletin and those offered while filling the online application form.
Click on the PREVIEW button after the completion of filling the application form. This will show all your submitted details.
If all the entered details are correct click the SUBMIT button else click on EDIT, and resubmit the information.
A unique Reference ID number shall be given to the applicant on submission of the online application form which should be kept carefully for any kind of future reference.
Only after receiving the Reference ID number the Submission of application form is thought-out to be completed. After the submission of the application, the candidates should take a printout of the application and retain it for future use. Candidates should not submit the print-out of the application through 'post' to any Authority.
AP TET TRT 2014 Guidelines G.O Ms.No.38 Dated 19.11.2014
Download AP DSC 2014 Detailed Guidelines Notification Go- No 38 PDF
The Andhra Pradesh Government gave a good opportunity for all DSC applicants and all B.Ed and D.Ed aspirants to apply for (TET cum TRT) AP TERT by making them eligible for it.
Now the Minister for Education is announced 10,313 Posts follow the Vacancies lists to this Teacher Recruitment as per the list.
Total Number of Posts for this DSC 2014-15 – 9061+1252 (Municipal Schools)= 10313
Secondary Grade Teacher SGT Posts -6244
School Assistants SA Posts -1849
Language Pandits LP Posts-812
Physical education teacher PET posts -156
Eligibility Criteria to appear for DSC 2015 Exam:
Must have completed B.Ed and D.Ed from the recognized university.
Must have done Graduation from the recognized university.
Applicants must have completed the minimum age of 18 years and not have completed the maximum age of 39 years.
In Case of SC/ST/BC Candidates, the maximum age limit is 44 years and for physically challenged candidates is 49 years.
NOTE:- Candidates must read the official notification before filling in the AP DSC Recruitment Application Form 2015