The written test shall be conducted in all the districts. A candidate shall appear for the written test in the district in which he seeks recruitment.
The Commissioner of School Education shall issue detailed instructions to ensure that Teacher Recruitment Test is conducted properly. The candidates who are found copying or resorting to other means of malpractices shall be expelled from the examination hall apart from being debarred from appearing for the examinations conducted by the District selection Committee for three consecutive examinations besides taking action as per the Andhra Pradesh Public Examination (Prevention of Malpractices and Unfair means) Act, 1997 (No.25 of 1997).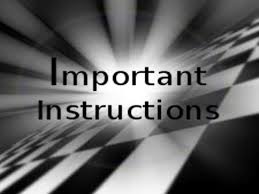 Disciplinary action shall be initiated against such staff who are found negligent in the discharge of their duties and an entry shall be made accordingly in the Service Register of the concerned staff besides taking action as per the Andhra Pradesh Public Examination (Prevention of Malpractices and unfair means) Act, 1997 (No.25 of 1997).
The written test will be in the medium concerned. No teacher shall be drafted for invigilation or other examination work at any centre. Only Non Teaching Staff drawn from other departments shall be drafted for invigilation work. However, not more than one Gazetted Officer of School Education Department, including Gazetted Headmaster, may be drafted as Departmental Officer for the centre to assist the Chief Superintendent.
ORIGINAL CERTIFICATES FOR VERIFICATION:
A Provisional merit cum roster list shall be prepared out of qualified candidates to the extent of vacancies notified for each category of posts.
After preparation of provisional list, verification of
Earlier TET score by original card
Original qualification certificates
Proof of age
Original caste/PH/any such qualification certificate claimed by the candidate in the application shall be undertaken by the officer/ Committee authorized by Commissioner and Director of School Education.
If the certificates are not found to be genuine /correct and if the candidate fails to produce the certificates required at the time of verification or if the candidate is absent for verification of certificates, such candidates forego the right of selection, and next eligible candidate shall be considered for certificates verification.
 After verification of certificates by the authorized officer/committee as designated by the Commissioner of School Education the final selection list shall be prepared and published.
The number of candidates shall not be more than the number of vacancies notified for that particular category.
In the process, posts if any unfilled for any reason whatsoever shall be carried forward for future recruitment.